Promote Home Care Business
Regular price
Sale price
$19.95 USD
Unit price
per
Sale
Sold out
Promote your Home Care Business!!
Listed below are all the topics that are broken down into even more ideas in guide!!

INDUSTRY LINKS INCLUDED

1. Build relationships with healthcare professionals
2. Attend community events
3. Leverage social media
4. Offer referral incentives
5. Partner with other businesses
6. Utilize online directories
7. Ask for testimonials
8. Host educational events:
9. Network with other professionals
10. Provide exceptional service
11. Utilize paid advertising
12. Develop a referral program
13. Volunteer in the community
14. Offer free consultations
15. Build a strong online presence
16. Create educational content
17. Attend networking events
18. Host open houses
19. Encourage online reviews
20. Partner with non-profit organizations
21. Offer a free trial
22. Use direct mail
23. Host a client appreciation event
24. Utilize video marketing
25. Attend trade shows
26. Offer educational workshops
27. Create a referral network
28. Participate in online forums
29. Develop partnerships with local businesses
30. Join local senior groups
31. Partner with hospice services
32. Offer a loyalty program
33. Provide excellent customer service
34. Create a newsletter
35. Participate in charity events
36. Host webinars
37. Utilize word of mouth
38. Use email marketing
39. Offer a satisfaction guarantee
40. Develop a social media strategy
41. Utilize online reviews
42. Offer specialized services
43. Hire a marketing professional
44. Create a blog
45. Host an open house for professionals
46. Develop a strong brand
47. Offer a referral bonus
48. Attend job fairs
49. Send a follow-up email or letter to current and past clients
50. Host a referral contest

BONUS:

How to Ask for testimonials for a non-medical home care service business

This template is great for:

⭐ Home Care Company/Agency
⭐ Personal Care Service/Attendant(PCA)
⭐ Private/Independent Personal Care Aid

★Templates designed by Danielle, an experienced home care business owner, for non-medical home care. Danielle's templates draw on her firsthand knowledge of working with clients, families, care facilities, trustees, curators and medical professionals.
★Templates facilitate non-medical home care business owners in achieving organization, expansion, and security.
★Templates offered in the Wise Caregiving Shop may not be resold, reproduced, provided freely, sent electronically, or exploited for profit in any manner.
★Once products have been downloaded from Wise Caregiving Shop, all sales are considered final.
★This shop is equipped with professional IT support for technical issues.

Share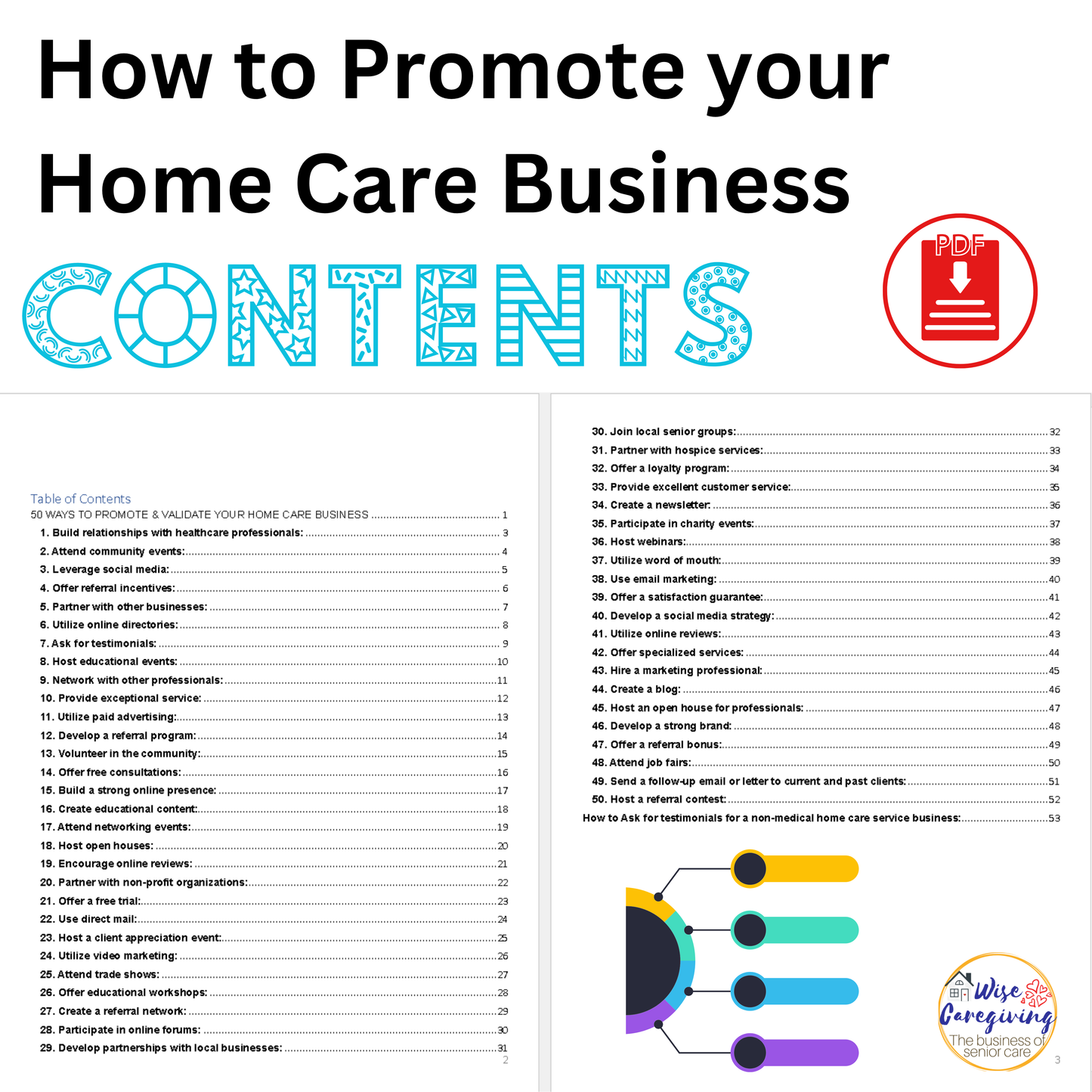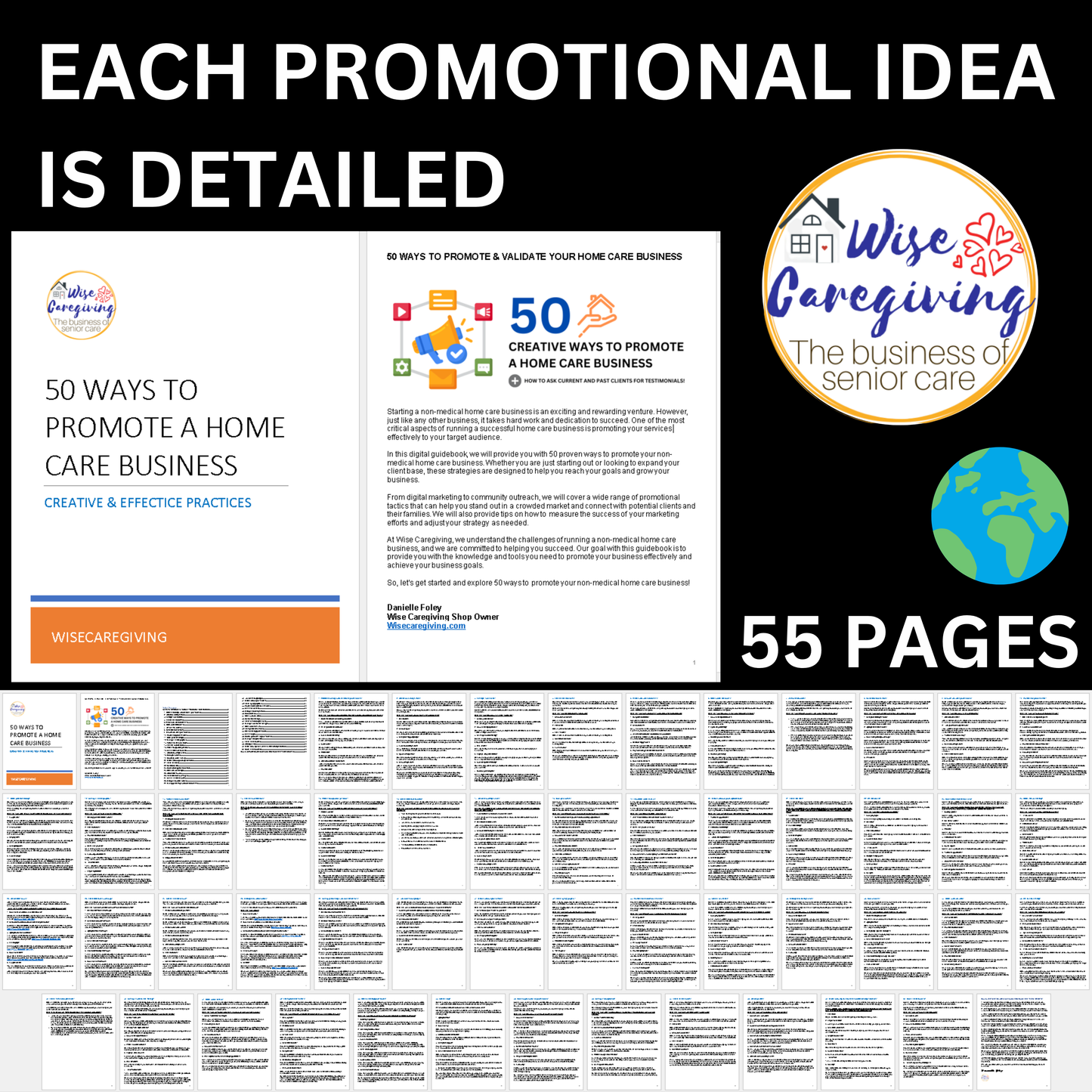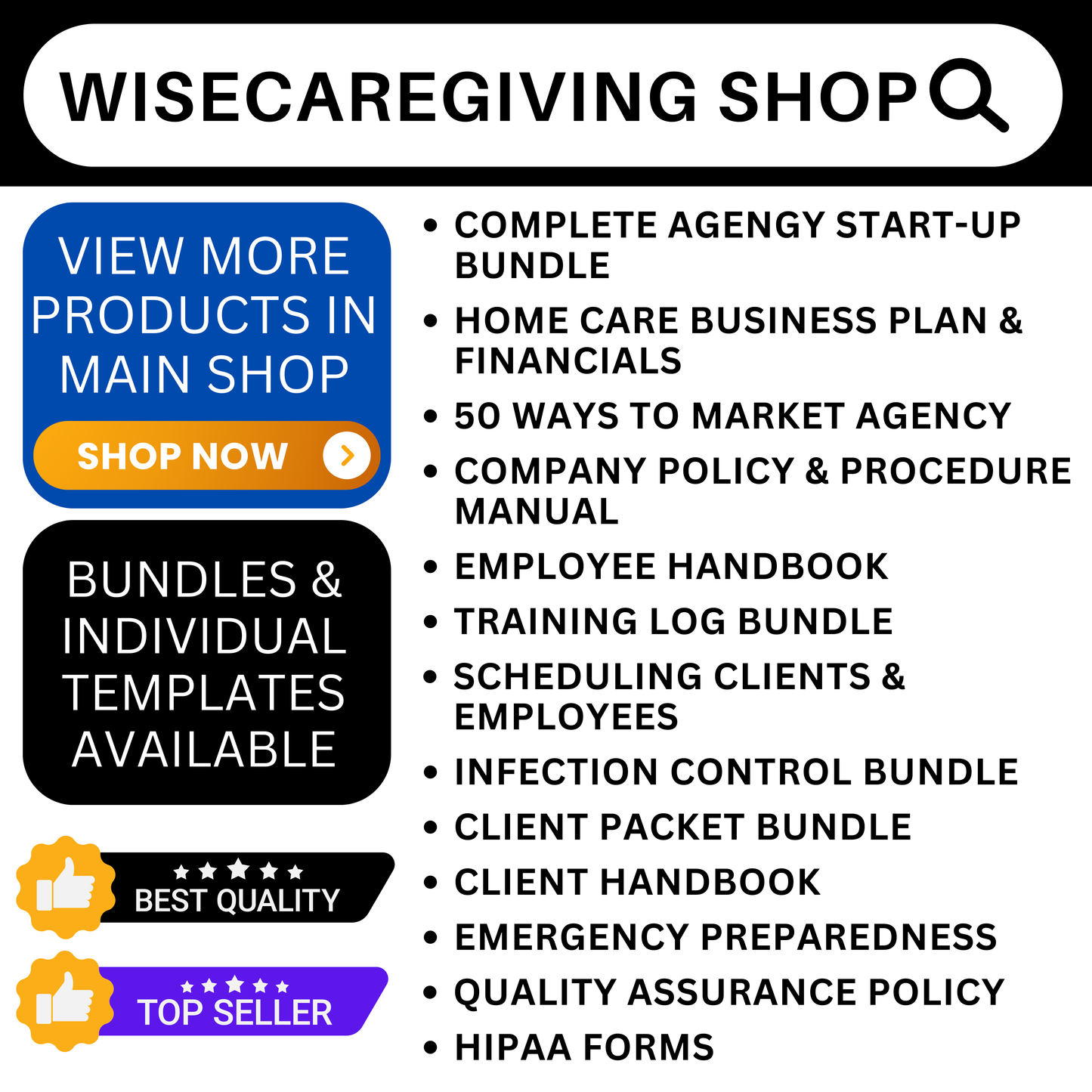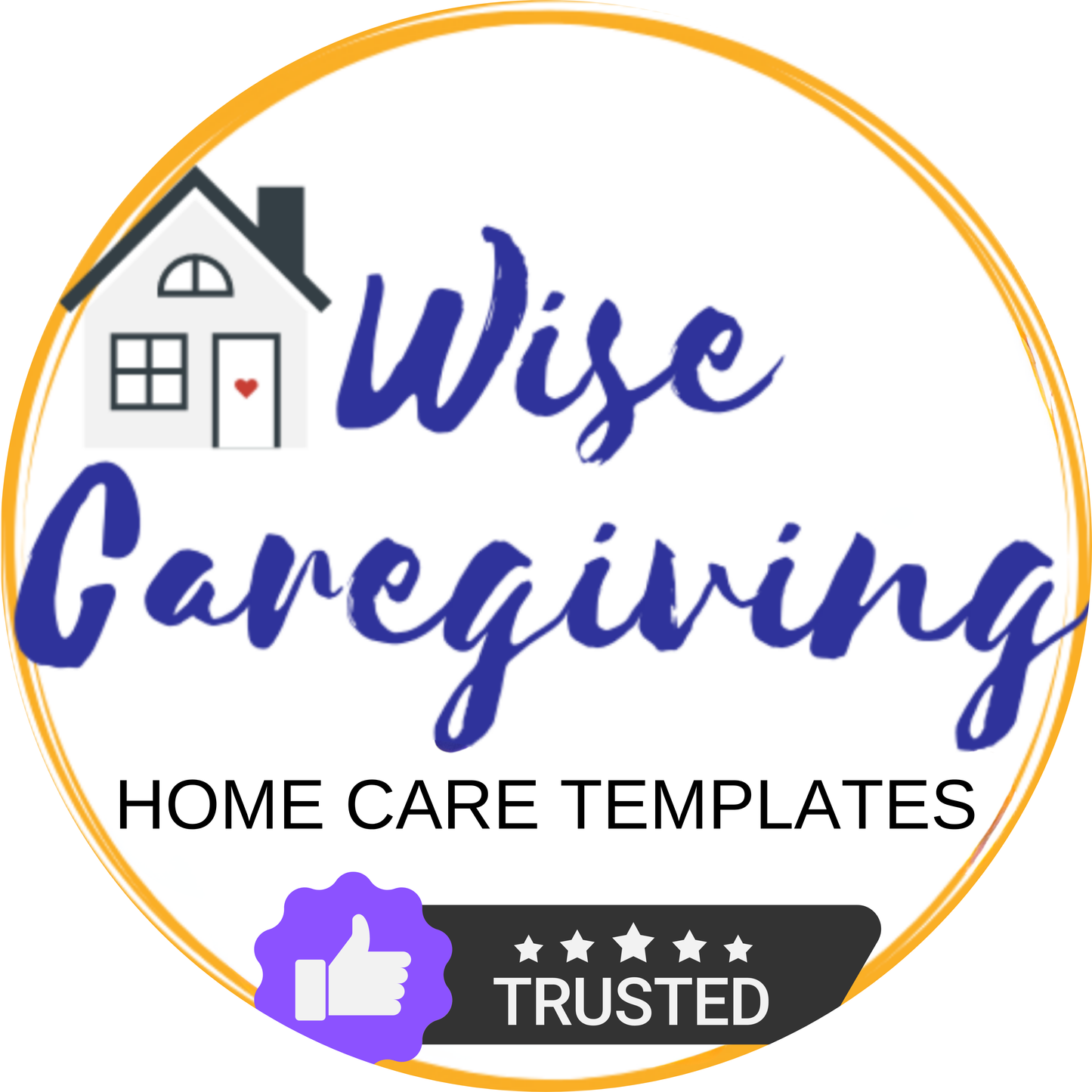 Great Information! Thank you for sharing
I am so excited ,to give a review!
This is the best marketing guide I have seen so far. It gives examples and different strategies that I didn't think of. So worth getting this product. Daneille, you're the best. Thank you.