Caregiving Checklist Template Bundle
Regular price
Sale price
$12.95 USD
Unit price
per
Sale
Sold out
Caregiving Checklist Template Bundle
This Caregiving Checklist Template Bundle provides comprehensive daily care, housekeeping, food log, and personal care checklists. 
📁Home Care Visit Report WORD DOCUMENT + PDF ADOBE FILLABLE FORMAT TOO!
Great way to send a quick update after each visit with senior
📁Housekeeping Checklist WORD DOCUMENT
Keep your care team well informed and senior clients safe with this detailed cleaning log
📁Weekly Food Intake Log WORD DOCUMENT
 A healthy diet and proper hydration help promote longevity and avoid expensive future healthcare costs!
📁Personal Care Checklist WORD DOCUMENT
Keep the care team well informed and accountable with this personal care chart

📁Elimination Chart WORD DOCUMENT
Keep the care team informed
These templates are good for a:

⭐
Home Care Company/Agency

⭐
Personal Care Service/Attendant(PCA)
⭐
Private/Independent Service Provider
How can you benefit from these templates?
⭐ Good communication amongst care team
⭐ Accountability among care team
⭐ Quick access to client information
⭐ Helps to make informed decisions
⭐ Helps to spot changes in mental/physical behavior
Main Features of caregiving checklist bundle templates:
✔️ MICROSOFT WORD DOCUMENTS
✔️ EDITABLE
✔️ Form fill digitally/manually
✔️ Print to PDF
✔️ Send electronically
✔️ Printable
⭐ How to add your logo instructions included!
Caregiving Checklist: Main Features: ADOBE PDF Fillable Form
✔️ HYBRID-use both printed or digital format
✔️ Formatting will not change when information is entered in fields
✔️ Fill out form digitally/manually
✔️ Electronic Signature
✔️ Send electronically
✔️ Printable
⭐Simply download ADOBE ACROBAT READER FOR FREE to use the form

★Templates designed by Danielle, an experienced home care business owner, for non-medical home care. Danielle's templates draw on her firsthand knowledge of working with clients, families, care facilities, trustees, curators and medical professionals.
★Templates facilitate non-medical home care business owners in achieving organization, expansion, and security.
★Templates offered in the Wise Caregiving Shop MAY NOT BE RESOLD, reproduced, provided freely, sent electronically, or exploited for profit in any manner. Legal action will be taken.
★Once products have been downloaded from Wise Caregiving Shop, all sales are considered final.
★This shop is equipped with professional IT support for technical issues.

Share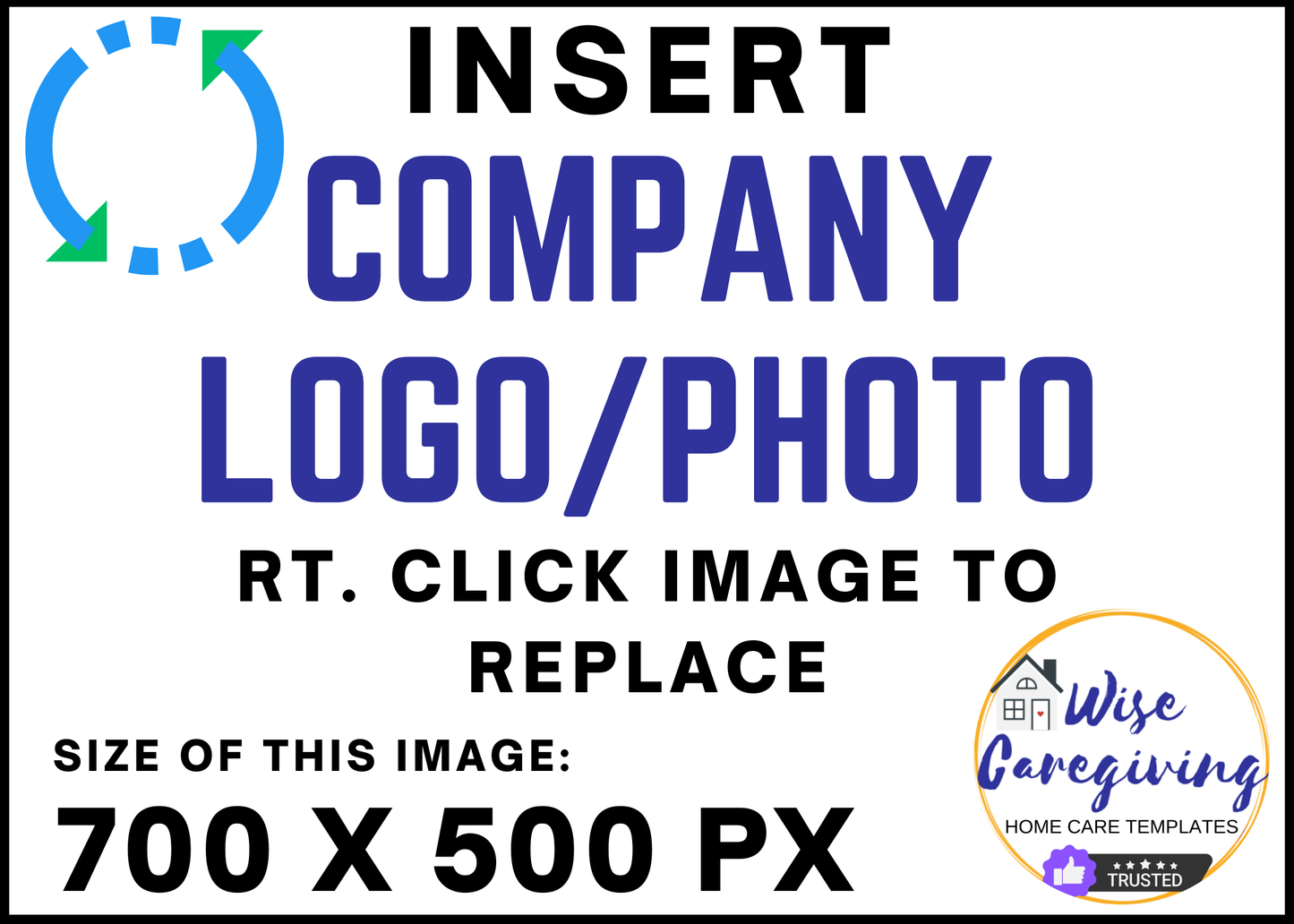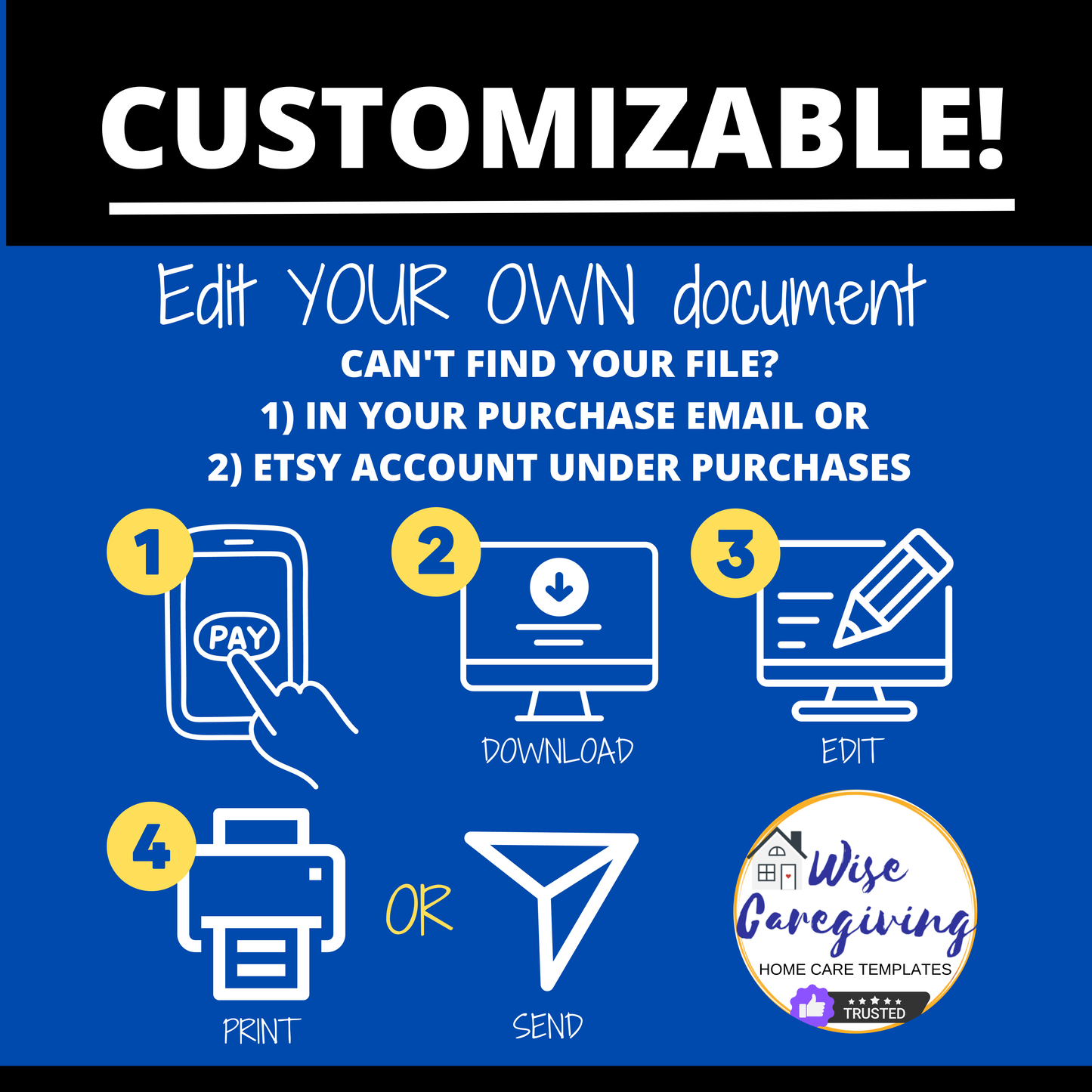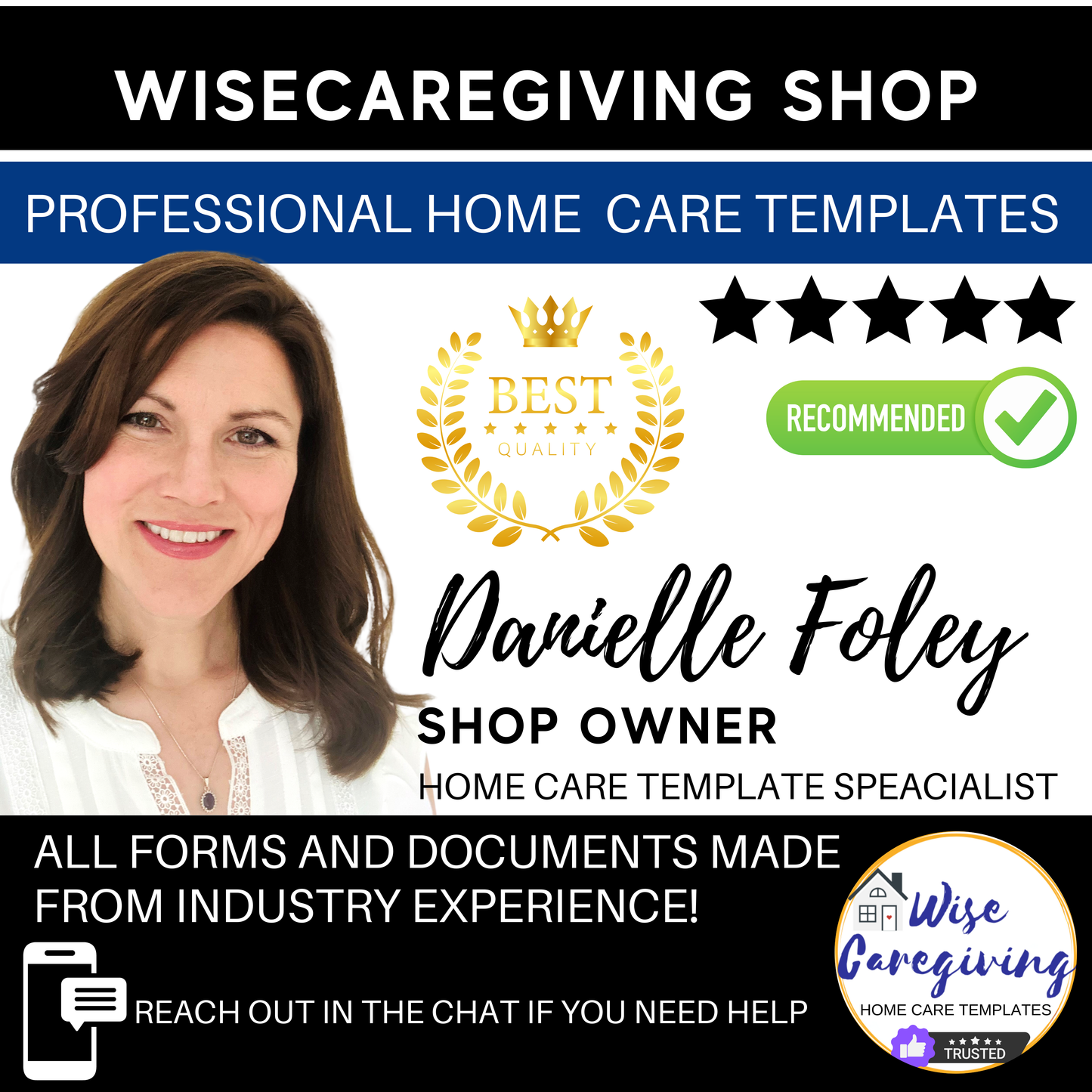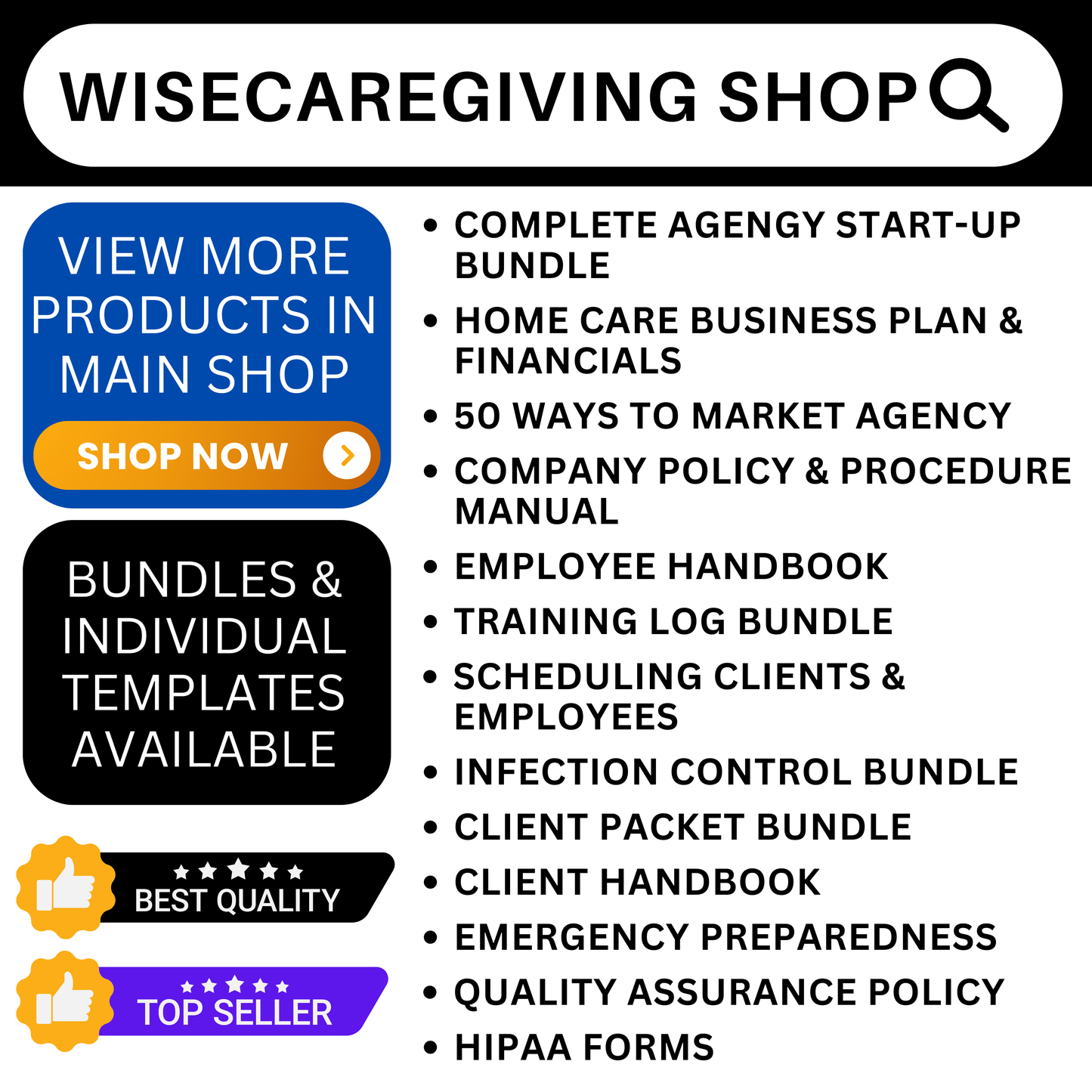 Excellent, thank you. I love the kit.
Love it!!
was better than expected love it
Exactly as described and editable. My grandmother's aide called and asked that I leave a daily scheduled task list so my Grandmother could see the tasks that I have asked her to do. I did not have the energy to create a list. Thanks! WiseCaregiving!